Please call into our store on Rose Lane, for a chat to see our service in operation and how we can help you. Bring a load of laundry with you and we can process it a no cost to confirm the quality of service we provide. Alternatively call 1800 940 602 or email us [email protected]
Our existing loyal commercial clients are involved in a variety of industries. They include short stay accommodation, health studios including Pilates, gymnasiums, beauty salons, spas, clubs, pubs and colleges.
Our washing machines and dryers vary in capacity to meet the smallest to largest demand. All of the machines are new, eco-friendly and very efficient. The washing machines are fitted with automatic product dispensers set to handle a variety of cleaning tasks from linen to towels used during massage treatment and the removal of other stains.
Please come in with your laundry and we will process it whilst we discuss your specific needs over a coffee. Send an email to [email protected] or call 1800 940 602
COMMERCIAL LAUNDRY SERVICE PRICE LIST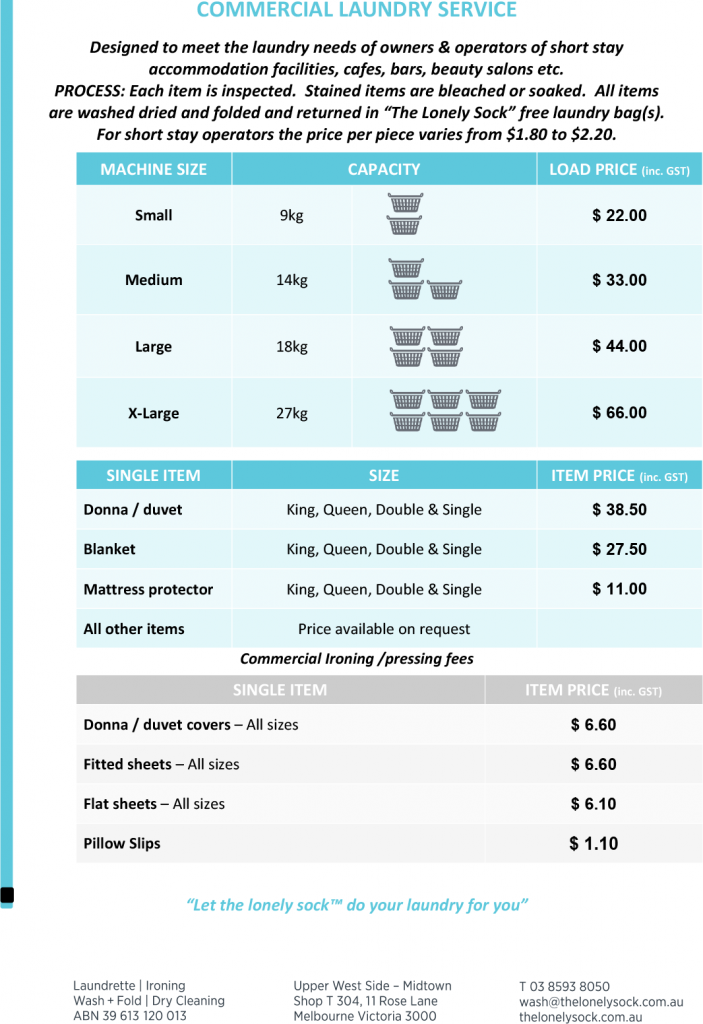 Why use commercial laundry services?
Our clients tell us that the main reasons they use our commercial services rather than doing it themselves in store or at the apartments they manage are:
Individualised Service
We do not combine laundry from various clients during the Washing and drying service. Each client's laundry is washed and dried separately in 1 or more machines. This ensures that you receive back from us the laundry we processed for you. In many cases your laundry will vary from others in quality and style. This individual service is not available from large industrial laundries.

Saves Time
Our washing machines range in capacity from 9kg to 25kg so we can process large quantities of laundry quickly and efficiently. Maximum washing cycle is 32 minutes. Our dryers have similar capacities and are gas fired not electric. Consequently the largest wash can dried in 30 to 45 minutes. Your staff cannot process the laundry in 77 minutes plus folding time. Instead of doing that they can be cleaning more apartments and make your business more efficient. Again we are aiming to make your business and our business more successful.

Easy Access
Whilst we can pick up and deliver many clients find it easier in the CBD to drop off and pick up their laundry at The Lonely Sock™. They and their staff can access the facility between 0700hrs and 2200hrs every day of the year. If our clients have apartments in the Upper West Side development on Spencer and Lonsdale Streets, they can access our facility 24hrs per day every day of the year.

Service and Flexibility
Because of our location we are able to meet urgent requests for laundry to be processed the same day or to provide additional linen or towels. Often if we add a quantity of items that are in common use by you we can supply them at no cost to make the turnaround process simpler or less frequent.

Local Business
Like you our family business relies on the goodwill of our clients and our ability to deliver on time at a competitive price. We have engaged staff who speak Asian languages to improve our ability to communicate with all clients and we support the various religious festivals celebrated in our great city Melbourne.